Engaging Students in STEM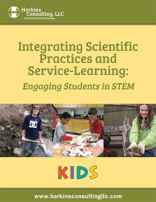 This guide, a supplement to the more comprehensive KIDS As Planners: A Guide to Strengthening Students, Schools and Communities through Service-Learning, is designed to help you integrate service-learning into STEM content areas and make use of Curriculum Topic Study (CTS), a valuable means of ensuring that STEM projects are developmentally appropriate and aligned with science standards.
Examples in this guide, based on the experience of more than a dozen classrooms, help illustrate how to plan and structure a STEM/service-learning project and how these projects benefit students, schools and communities.
Fill out the form below to request your free copy!